Energy tunnels and geothermal applications
The Heat is a form of energy and geothermal energy is, literally, the heat contained within the Earth that generates geological phenomena on a planetary scale. 'Geothermal energy' is often used nowadays, however, to indicate that part of the Earth's heat that can, or could, be recovered and exploited by man. The heat captured from the soil is used for heating and cooling buildings and infrastructures. In fact, there are several technical means to tap this vast resource by extracting heat from the ground: a) horizontal coils, b) groundwater wells, c) borehole heat exchangers (BHE) and d) energy geostructures.
The energy geostructures are particular geotechnical structures conveniently instrumented for exchanging heat with the soil. The research activities in this field focus mainly on the understanding of the behavior of energy geostructures and on the optimization of their usage.
Thermoactive geostructures for near-surface geothermal energy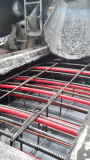 This research field is devoted to investigate the possibility of implementing geothermal plants into concrete structures in contact with the ground, such as foundations, retaining walls, tunnel lining and diaphragms. This new technology couples the primary role of geostructures with the geothermal energy exploitation, resulting in a reduction of installation costs with respect to classical geothermal systems. Energy geostructures are low enthalpy systems which can be used for purpose of cooling and heating of buildings and infrastructures, as well as for road de-icing.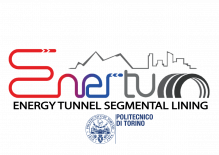 During winter, the ground becomes a source of heat for heating the building while during summer it becomes a sink for releasing the heat that comes from the building conditioning. This is possible thanks to the quite constant temperature of the ground all over the year and realized by simply embedding a system of pipes inside the concrete, with a heat carrier fluid circulating through them and exchanging heat with the soil, connected to a heat pump. The research activities in this field are mainly devoted to geothermal tunnels.
Studies in this area allowed to develop Enertun, a novel tunnel precast segmental lining for tunnels constructed by TBM (Patent priority number 102016000020821). An experimental site in the tunnels of the Turin metro line 1 is under construction. Research team: Marco Barla (professor), Alice Di Donna (research assistant), Alessandra Insana (PhD student), Giorgio Giannì (scholar). More information on the Enertun Facebook page, on the Knowledge share official website or from the Enertun video.
Optimization of geothermal resources in urban areas

Whenever a geothermal installation is planned, the first question to be answered is about the exchangeable amount of energy. There are a lot of aspects influencing this quantity known as Geothermal potential. Among these factors, some are site-dependant, as groundwater fluxes presence and velocity and temperature. These factors might be evaluated with good reliability in rural areas and then manipulated to assess the site-specific geothermal potential. On the contrary, urban context are characterised by high variability of groundwater flow field due to the presence of underground structures and infrastructures (e.g.Urban Tunnels). Furthermore, subsoil temperature is altered by the Subsurface Urban Heat Island effect (S.U.H.I.). In addition to this, the continuously growing number of thermal and non thermal users of the subsurface may lead to interference among geothermal installation, making the traditional methods for geothermal potential assessment unreliable. This research field is then devoted to take into account the peculiarities of urban context in order to reliably assess the geothermal potential: highly time-dependant and spatially variable flow and temperature field are determined through regional numerical models. Traditional geothermal potential assessment methods usually neglect the advective contribution to heat transport, accounting just for heat conduction. The research project rOGER aims to take into account the advective components by manipulation the results from thermo-hydro simulation with novel methods of assessment. The final goal being that of highlighting more profitable areas for geothermal energy, optimizing the resource for energy planning policies and developing local district systems for heating and cooling based on integrated renewable energy sources.
Projects:
Proof of concept. Sperimentazione del concio energetico modulare prefabbricato ENERTUN.
ENERTUN, Metro tunnels as geothermal energy sources. Feasibility study funded by the Regione Piemonte (Polo di Innovazione Regionale Enermhy) with the collaboration of Desa Srl, Torino. 2014-2015 (12 months).
GABI: European network for shallow geothermal energy applications in buildings and infrastructures (COST Action). Research action gathering together 55 participants from 37 institutions between Universities and Companies located in Austria, Belgium, Switzerland (LMS-EPFL), Czech Republic, Germany, Spain, France, Italy, Poland, Portugal, Slovenia and United Kingdom. (5 years). Linkedin.
ENERWALL: Diaphragm walls as geothermal energy sources. Feasibility study funded by the Regione Piemonte (Polo di Innovazione Regionale Enermhy) with the collaboration of Teknema Progetti Srl, Torino and Resoving Srl, Torino. 2015 (6 months).
People
Publications
2018
2017
2016
2015
Il ruolo delle condizioni geotecniche sull'efficienza delle gallerie energetiche
Proceeding


A. Di Donna; M. Barla
In: IARG 2015
Incontro Annuale dei Ricercatori di Geotecnica (IARG) 2015 (Cagliari) 24-26giugno 2015
pp.6

Gallerie energetiche in ambiente urbano
Proceeding


M. Barla; A. Di Donna
In: IARG 2015
Incontro Annuale dei Ricercatori di Geotecnica (IARG) 2015 (Cagliari) 24-26giugno 2015
pp.6
2014
LE GALLERIE METROPOLITANE COME SCAMBIATORI DI CALORE: UNA IDEA DI APPLICAZIONE A TORINO
Proceeding


Perino A.; Barla M.
In: Titolo volume non avvalorato
Incontro Annuale Ricercatori di Geotecnica - IARG 2014 (Chieti) 14-15-16 luglio 2014
pp.6

Energy from geo-structures: a topic of growing interest
Article


Barla, Marco; Perino, Andrea
ENVIRONMENTAL GEOTECHNICS
ICE Publishing
Vol.2 pp.5 (pp.3-7) ISSN:2051-803X DOI:10.1680/envgeo.13.00106

Geothermal heat from the Turin metro south extension tunnels
Proceeding


M. Barla; A. Perino
In: Tunnels for a better life
ABMS/CBT (BRASILE)
World Tunnel Congress 2014 (Iguassu falls, Brazil) May 9th-15th, 2014
pp.8 (pp.1-8) ISBN:9788567950006
Total: 22