Pipe jacking and microtunnelling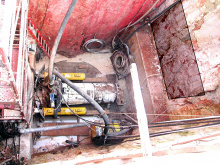 Microtunnelling operations allow the installation of pipelines from jacking pits. Trenchless operations, such as microtunnelling, minimise trench spoil and hence reduce waste, they also reduce damage to the road surface and traffic disruption when compared to trenching operations. During the microtunnelling process the jacking load is an important parameter, controlling the pipe wall thickness, the need for, and location of, intermediate jacking stations, selection of the jacking frame and lubrication requirements. The main component of the jacking load is due to frictional resistance.

Microtunnelling is a complex process and this makes the theoretical determination of the jacking forces quite difficult. The pipe–soil/rock interaction is in fact highly affected by excavation conditions (overcut, lubrication, pipe misalignment, stoppages, tunnel stability, rock mass quality, etc.).
The research in this field has the main goal to improve desing analysis techniques with reference to pipe-jacking and microtunnelling operation. The research focuses over the following aspects:
(1)Pipejacking in swelling clays. This work was conducted in cooperation with the University of Cambridge.
(2)Microtunnelling in fractured rock masses.
(3)Applicability in the Torino subsoil. In order to improve the applicability of microtunnelling in the Torino metropolitan area, the research project is intended to study investigation and interpretation methods, design methods. Thanks to a discontinuum numerical model, useful correlation between the geotechnical characteristics of the subsoil and the characteristics of the microtunnellers (jacking force needed to advance into the ground, etc.) are being developed.
People
Publications
2017
Pipe Jacking in Sandy Soil Under a River in Shenyang, China
Article


Ji, Xin-Bo; Zhao, Wen; Jia, Peng; Qiao, Li-bin; Barla, Marco; Ni, Pengpeng; Wang, Liang
INDIAN GEOTECHNICAL JOURNAL
Springer
Vol.47 pp.15 (pp.246-260) ISSN:0971-9555 DOI:10.1007/s40098-016-0195-5
2013
A method to design microtunnelling installations in the Torino randomly cemented alluvial soil
Article


Barla M.; Camusso M.
TUNNELLING AND UNDERGROUND SPACE TECHNOLOGY
Elsevier
Vol.33 pp.9 (pp.73-81) ISSN:0886-7798 DOI:10.1016/j.tust.2012.09.002
2007
Microtunnelling: a data base as a design tool
Article


BARLA M.
INżYNIERIA BEZWYKOPOWA
Vol.4 (pp.58-60) ISSN:1730-1432
2006
Analysis of jacking forces during microtunnelling in limestone
Article


BARLA M.; M. CAMUSSO; S. AIASSA
TUNNELLING AND UNDERGROUND SPACE TECHNOLOGY
Vol.21 (pp.668-683) ISSN:0886-7798 DOI:10.1016/j.tust.2006.01.002
2003
Numerical modelling of pipe-soil stresses during pipe jacking in clays
Proceeding


BARLA M.; BORGHI X.; MAIR R.J.; SOGAR. K.
In: 13th European Conference on Soil Mechanics & Geotechnical Engineering
ČGtS (REPUBBLICA CECA)
XIII ECSMGE (Praga) 25-28 agosto 2003
Vol.2 pp.6 (pp.453-458) ISBN:9788086769004
Total: 5